The Versatility of Metal Buildings
From wartime Quonset huts to modern sports facilities, Oklahoma Metal Buildings have been designed for a variety of functions. Unlike traditional buildings, metal building designs are flexible and allow for significantly wide open spaces.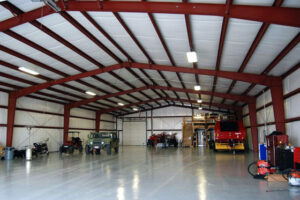 New advances in steel construction have improved energy efficiency. For example, factory-insulated walls can now be paired with roofing systems that reflect sunlight and solar radiation to keep the building cooler.
Whether you want to build a workshop, storage unit, or metal garage, the versatility of steel buildings makes them an ideal construction solution. These structures are also durable and can withstand harsh weather conditions such as hurricanes, tornadoes, or earthquakes. They are also a popular choice for commercial and industrial purposes.
They are perfect for storing tools and equipment, as well as cars and motorcycles. In addition, they can be used as warehouses for storing large items or inventory. These structures are also fire-resistant, making them a great choice for businesses that need to store expensive goods or materials. They are also easy to clean and maintain. Moreover, they are easy to erect, affordable, and energy-efficient. This makes them an ideal construction option for residential and commercial applications.
Another benefit of metal building systems is that they can be remodeled to fit your needs. You can choose to add doors or windows and change the floor plan of the structure depending on its end use. You can even repurpose your metal building by moving or adding equipment. The best part is that this versatile construction method will increase the resale value of your property.
If you are planning to buy a prefabricated metal building, make sure to go with a certified company. This will ensure that your structure meets all the standards set by the state and local authorities. Some companies may offer cheaper, non-certified structures, but they are often not as durable or strong. You should also look for a company that offers a warranty on their products.
The price of a steel building can vary slightly from one provider to the next. This is because of different customization options, material pricing, and other factors. However, the cost of a steel building is still considerably less than that of traditional buildings.
Many businesses are choosing to invest in prefabricated steel buildings. The versatility and affordability of these structures are attracting more companies to use them for their storage, office space, and other commercial needs. They are also more energy-efficient than other types of buildings and can withstand natural disasters such as hurricanes, tornadoes, earthquakes, and wildfires. They are also highly customizable and can be fitted with insulation to reduce their power consumption and environmental impact.
Durability
Steel buildings are designed to withstand a wide range of environmental conditions, including heat, cold, and wind. If you are looking to purchase a metal building for commercial or residential use, be sure to keep your individual demands in mind to ensure that the structure is a good fit. For example, a steel garage kit would be ideal for anyone who wants to add a spacious, secure storage area to their home. Other uses include metal warehouses, airplane hangars, and commercial structures like retail stores or churches.
The durability of metal buildings is a major selling point for customers. They are built to withstand the elements and last longer than other types of structures. They are also less susceptible to mold and mildew. Additionally, steel buildings are fire-resistant and are able to resist earthquakes. In addition, they are often easier to repair than other types of buildings.
Many metal building manufacturers offer a variety of designs and colors to choose from, which allows customers to personalize their structures. They also follow strict quality control protocols during the construction process. In addition, they can provide a variety of options for doors and windows. These features allow customers to make their structures look more appealing and increase the functionality of their buildings.
Durability is an important consideration for any type of building, but it is especially relevant for industrial structures. These structures are often located in harsh environments, such as oil and gas fields or wind farms. They must be able to endure extreme temperatures and high winds without compromising the safety of employees or equipment.
Unlike traditional buildings, metal structures are more resistant to high winds. In fact, they can even withstand tornadoes and hurricanes. These buildings are also more resilient against snow and heavy rain. They can withstand these conditions for years, which saves the owner money on maintenance and repairs.
Whether you are looking for a simple steel shed or an extensive warehouse, a pre-engineered metal building is the right choice. It offers a straightforward construction method and can be completed in weeks or days. This is because all the components are fabricated off-site and delivered to your construction site in ready-to-assemble condition.
Energy Efficiency
With a heightened awareness of sustainability and environmental protection, energy efficiency has become a major consideration in commercial construction. When properly insulated, steel buildings offer much greater energy efficiency than traditional stick-built structures, which can drastically reduce heating and cooling costs.
Metal buildings feature a unique building structure that allows for flexibility in the placement of insulation and venting systems to maximize thermal performance. This, coupled with the varying height options available, helps to create a thermal barrier that minimizes heat loss, allowing for more consistent temperatures throughout the year and reducing overall energy consumption.
Additionally, metal buildings use less power to cool and warm than their wood-built counterparts because they are lighter and more conductive. In addition, metal roofs feature a reflective coating that keeps your building cooler in the summer and cuts down on cooling bills.
Pre-engineered metal buildings also offer a variety of insulation options to help with compliance with local energy codes. Insulation products such as THERMAX® Metal Building Board, for example, have a high R-value to improve thermal performance and lower energy costs. These insulation boards are manufactured in long lengths, minimizing the number of joints and air leakage points in the building.
With the increase in energy prices, finding ways to decrease your energy usage benefits not only the environment but also your bottom line. The amount of energy that goes into heating and cooling a commercial structure accounts for nearly 19% of the nation's total energy consumption, so any reduction is beneficial.
In addition to using efficient insulation, adding manual vents and powered fans can help your metal building stay cool without relying on excessive electricity. Another option is to plant shade trees to block the sun from direct contact with your building, reducing energy usage and lowering cooling bills. Lastly, the recycled content in all steel products helps to conserve energy by ensuring that no waste is sent to landfills. The average structural steel contains 77% recycled content, which is significantly more than other materials such as concrete and wood. This translates to an estimated 250 million BTUs of saved energy per ton.
Aesthetics
When it comes to building design, architects often start with a style or aesthetic in mind. The good news is that steel construction offers many possibilities to achieve a desired architectural look. In addition to the visual appeal and flexibility that metal provides, modern innovations have taken metal buildings beyond their basic rectangular shape. With curved roofs, striking facades, and unique geometrical shapes, metal buildings can help businesses create visually stunning commercial spaces that stand out from the rest.
The appearance of a building is not just important for business owners. It also plays a key role in customer perception and brand image. This is why it's crucial for builders to consider the aesthetics of a structure and how it will blend with its surroundings. When it comes to metal building construction, the choice is simple: there are endless opportunities for visual design that make these structures a perfect fit for almost any style of building.
For those who want a traditional or industrial style of building, rolled metal options can mimic the look of wood or stone. A ceramic coating can also be applied to steel panels to create or reproduce any color scheme, graphic concept, or image. Additionally, many manufacturers offer colored screws that match the building's panels for a cohesive finish.
In addition to offering a variety of visual design options, the aesthetics of metal buildings can be improved even further by adding cladding or siding to the exterior. Brick, stucco, and concrete are all great choices for enhancing the visual appeal of a building. Some business owners may find that these elements can align with their branding or the image they are trying to portray, making metal buildings an excellent option for businesses that are looking for a more refined building solution.
With efficient space utilization, architectural versatility, and customized prefab options, it is no wonder that metal buildings are revolutionizing the way that businesses operate. With the right design, they can support a variety of functional requirements and leave a lasting impression on customers and employees alike.